In This Edition:
Twelve More Counties Set to Move to Yellow Phase of Reopening on May 22
Unemployment Benefits Extended 13 Weeks
LIHEAP Recovery Crisis Program Opens Today
Food Rescues and Resources Available to Help Families in Need
---
Twelve More Counties Set to Move to Yellow Phase of Reopening on May 22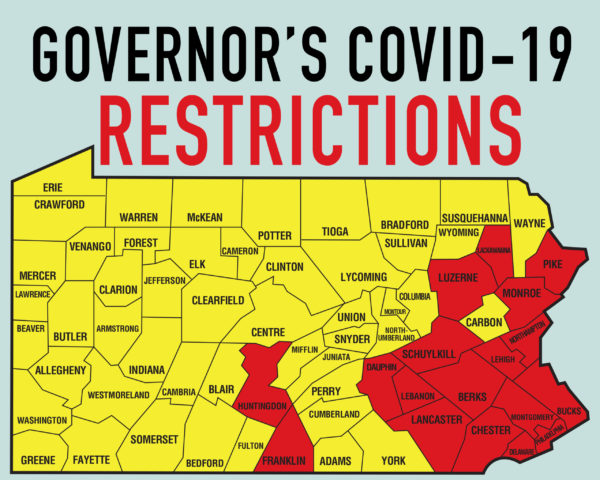 Beginning on Friday, a dozen new counties will move to the yellow phase of reopening, bringing the total number of counties in the yellow phase to 49.
The yellow phase will allow businesses with in-person operations to open under strict health guidelines and building safety orders to reduce the risk of infection. Telework must still continue where feasible. School closures and restrictions on congregate care, prison visits and large gatherings of more than 25 people will remain in place. Indoor recreation, health and wellness facilities and entertainment venues will remain closed, and restaurants and bars will still be limited to carry-out and delivery only.
The counties added to the yellow phase are: Adams, Beaver, Carbon, Columbia, Cumberland, Juniata, Mifflin, Perry, Susquehanna, Wyoming, Wayne, and York.
Unemployment Benefits Extended 13 Weeks
Pennsylvanians who have an expired Unemployment Compensation claim or have exhausted their benefits under an existing claim can receive an additional 13 weeks of payments through the new Pandemic Emergency Unemployment Compensation program. The extended benefits will be available through December 26 for claimants who have exhausted regular benefits.
If a claimant's benefits have expired, they must submit an application for the extended benefit online or mail a paper application. If an individual has an open claim and exhausts their benefits, the additional 13 weeks will be automatically added to their existing claim. Applicants will receive the same weekly benefit as their regular rate, including the additional $600 per week from the Federal Pandemic Unemployment Compensation program. Benefits will be available retroactive to the benefit week ending April 4.
More information on the program is available here.
LIHEAP Recovery Crisis Program Opens Today
Low-income families who are struggling with energy costs during the COVID-19 pandemic may qualify for assistance from the new Low-Income Home Energy Assistance Program (LIHEAP) Recovery Crisis Program. The application period opens today and will run through August 31, or until all available funding for the program is spent.
The program will offer a crisis benefit and a supplemental payment made directly to utility companies or fuel providers to help offset costs for home utilities. Funding is available for homeowners and renters who meet income guidelines and maximum benefit will be $800 per household.
Income limits, application information and more information are available here.
Food Rescues and Resources Available to Help Families in Need
The COVID-19 pandemic has created enormous financial strains on many families who were suddenly left without jobs during the governor's extensive business shutdown orders. As lawmakers continue to look for ways to repair the damage done to our economy, a number of community partners are stepping up to help families impacted by COVID-19 through food rescues and other charitable food efforts.
The Department of Agriculture recently highlighted the efforts of food rescue organizations that work to recover unused food before it goes to waste so they can provide these goods to food banks and other charitable food efforts. Feeding Pennsylvania also maintains a list of member food banks available to serve residents of all 67 counties in Pennsylvania.
The Pennsylvania Nutrition Education Network also has compiled a list by region of food resources available to help families in need during COVID-19, and they recently launched a new Healthy Pantry Toolkit to help food pantries better meet the needs of visitors.