In This Update:
PennDOT Resumes REAL ID Processing
Funding Available for Transportation Improvement Projects
Grants Available to Train Direct Care Workers
---
PennDOT Resumes REAL ID Processing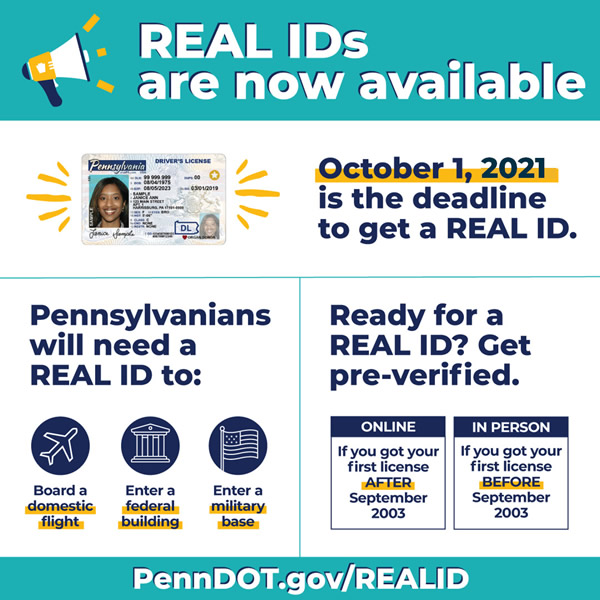 The Pennsylvania Department of Transportation has resumed issuing REAL IDs at reopened Driver License Centers throughout the state. REAL ID processing was suspended in March when most PennDOT offices closed amid the COVID-19 pandemic.
The deadline to comply with REAL ID requirements was pushed back one year due to the pandemic. REAL ID is optional for drivers, but driver licenses and photo ID cards will no longer be accepted as a valid form of identification for boarding commercial flights or visiting federal buildings beginning on October 1, 2021.
More information about REAL ID is available on PennDOT's website.
Funding Available for Transportation Improvement Projects
Transportation improvement projects throughout the state could receive a boost from grants through the Multimodal Transportation Fund. The program provides funding for ports and rail freight, increases aviation investments, establishes dedicated funding for bicycle and pedestrian improvements, and allows targeted funding for all modes of transportation.
The program is open to municipalities, councils of governments, business/non-profit organizations, economic development organizations, public transportation agencies, public airports, airport authorities, and ports and rail entities. Applications for grants will be accepted through November 6.
Grants Available to Train Direct Care Workers
The COVID-19 pandemic has had a severe impact on patients and employees in long-term care settings. Grants are available through the Department of Labor and Industry to provide new career opportunities for direct care workers and improve the quality of care provided to patients.
The Direct Care Worker Training Grants program helps create and develop training programs that increase the quality of services, offer specialty certifications, and create viable career opportunities for personal care assistants, home health aides and certified nursing assistants. The deadline to apply is October 2.